SOAD Design Day and Summer Camp
Wed, 09/21/2022 - 4:14pm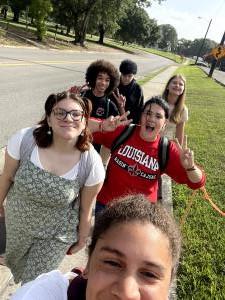 On March 26, the School of Architecture and Design at UL Lafayette hosted Design Day, an event for high school juniors and seniors interested in majoring in interior design, industrial design, or architecture. Forty-five prospective students attended. Design Day gives prospective students a glimpse into the everyday studio environment in the School of Architecture and Design, and a feel for our dynamic and unique teaching and learning process.
Nine of the Design Day participants joined the Design Summer Camp on June 12. This one-week residential or non-residential program allows prospective students to be immersed in a college experience that includes hands-on projects that introduce the world of design, presentations and field trips to professional design firms including Grace Hebert Curtis Architects and ACSW Architects, as well as Nobel Plastics – a product realization company.
The energy and excitement the in-person prospective student events created was invigorating. We hope that our Design Day and Summer Camp participants choose UL Lafayette School of Architecture and Design for their undergraduate studies.
---